UPGRADE je golfspel dankzij HYPNOSE !
Haal je voordeel uit het geheim, gebruikt door golf legendes en golf sterren,
om het spel helemaal onder de knie te krijgen.
Golfsucces eenvoudig gemaakt.
Op zoek naar manieren om je golfspel te verbeteren?
Wil je:
⛳ Je handicap verminderen en zo goed mogelijk spelen?
⛳ Superieur zelfvertrouwen krijgen in je capaciteiten op de golfbaan?
⛳ Een mindset ontwikkelen waarmee je het mentale aspect  van golf kan overwinnen?
Geloof het of niet, hypnose is een van de best bewaarde geheimen van het spel! Mental Golf is het deel van de golfsport dat het vaakst wordt genegeerd, maar het is net zo belangrijk als het fysieke aspect van het spel, zo niet belangrijker!
Door hypnose en visualisatietechnieken te gebruiken, kan je zowel de mentale als de technische kant van het spel onder de knie krijgen . Met als gevolg:  lagere scores behalen, je beste ronde ooit spelen en meer plezier beleven aan je favoriete bezigheid.
Met onze speciale golf hypnose-sessies kan je:
⛳ De mentale technieken leren die  gebruikt worden door enkele van de grootste golfers in de geschiedenis
⛳De juiste mindset ontwikkelen die afleiding voorkomt en je ganse golfspel verbetert, inclusief je drive, je swing, chippen, pitchen en putten. 
⛳ Drastisch je focus verbeteren dankzij een combinatie van hypnose en visualisatie
⛳ ALGEMEEN je golfspel verbeteren in slechts enkele sessies !
De meeste golfers falen omdat ze worden verteerd door twijfel aan zichzelf. Vaak wordt de teleurstelling van een vorige actie meegenomen naar een volgende slag. Hypnose stelt je in staat je geest te herprogrammeren om elke keer opnieuw stress, angst of faalangst te overwinnen.
We hebben reeds verschillende malen ervaren hoe hypnose golfers een ongekende motivatie, het vertrouwen en de focus geeft om hun hele  spel te verbeteren.
Het is een tool die een ongeëvenaarde efficiëntie biedt en toch (nog) niet algemeen bekend is… .Tot NU.
Hoe helpt hypnose golfspelers ?
Hypnose heeft een effect op je onderbewustzijn. Dit is waar je ware kracht, je gewoontes, je gedragingen en overtuigingen worden gecreëerd. 
Je bent je er waarschijnlijk niet eens van bewust maar je onderbewustzijn neemt  90 % van de taken voor zijn rekening terwijl je bewuste brein slechts voor de overige 10% zorgt.
We gebruiken ons onderbewustzijn dagelijks om onze routine taken uit te voeren.
Een ervaren hypnotiseur, zoals de hypnotherapeuten van HypnoseCentrum.be, kan communiceren met je onderbewustzijn om zo negatieve patronen te elimineren en positieve suggesties te introduceren, of in dit geval een breed scala aan productieve golftechnieken.
Hypnose verbetert de technieken die je al onder de knie hebt en geeft je het vertrouwen om ze beter uit te voeren om zo je best mogelijke spel te spelen!
Wil jij ook een lagere HCP, beter en efficiënter spelen en meer plezier beleven ?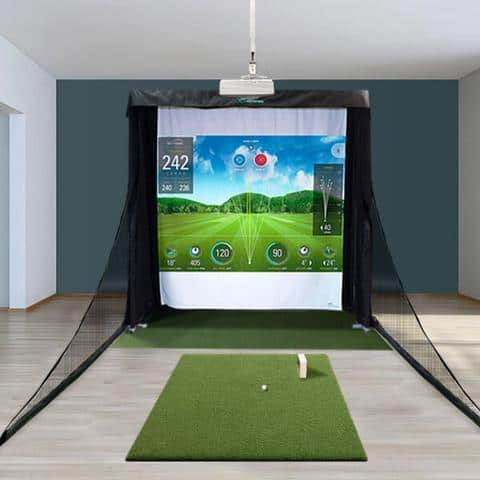 Technieken verbeteren met directe feedback
In ons filiaal te Aarschot hebben we een SkyTrak golfsimulator zodat je onmiddellijk feedback krijgt tijdens het werken aan een bepaalde techniek. Het is wetenschappelijk bewezen dat wanneer je een techniek visualiseert je deze ook onder de knie kan krijgen. Je moet die dan natuurlijk wel heel vaak visualiseren. Hypnose kan dat proces versnellen. We gaan je onderbewustzijn als het ware wijsmaken dat je deze techniek duizenden malen hebt geoefend met als gevolg dat je onmiddellijk beterschap tot perfectie gaat ervaren.